As people migrate to iOS 9 from earlier versions of iOS, we've been getting an increased number of accusatory emails and feedback asserting things like: "your App lost all my Astrology charts in iCloud".
First, let me assure you, iPhemeris did not lose your chart data. It is most likely all still there in iCloud. In fact nothing has changed in our code relative to iCloud and the way Astrology Charts are stored in over a year! Here is what likely did happen and some solutions for fixing it.
In both iOS 8 and iOS 9, Apple made changes to the way iCloud worked to improve stability and reliability. In both these versions of iOS, users have been required to upgrade all the data (not just iPhemeris data) in their iCloud accounts to newer formats. After you've upgraded to the new version of iOS and when signing into iCloud for the first time, a message about this pops up, unfortunately many don't bother to read it and don't realize what is about to happen.
And during both of these conversions (to iOS 8 or iOS 9) when you convert one device, you must convert all devices else data on unconverted devices will no longer sync with data on newer devices and vice versa.
The good news is that Apple has continued supporting most device for iOS 8 and 9. I strongly recommend that you upgrade ALL devices to the latest. iOS 9 is mainly a stability release and has numerous security improvements. There is virtually NO benefit to staying on an older version unless you have some device that cannot migrate.
Note: Any device that can run iOS 8 can run iOS 9. Also, if you are having trouble upgrading a device to iOS 8 or 9 because of memory constraints, connecting it physically to a computer with iTunes can often resolve that issue. Or, you can delete Apps in the cloud until there is sufficient room to do the upgrade. You can get them back later.
Getting Astrology Chart Syncing Working Again
Here are the steps for ensuring that your Astrology Charts follow you onto iOS 9:
Upgrade devices to iOS 9.
Let Apple migrate/convert your iCloud data.
Make sure you are signed into iCloud.
In iPhemeris Settings, make sure iCloud is turned ON.
Next go into iPhone Settings > iCloud > iCloud Drive.
Step 1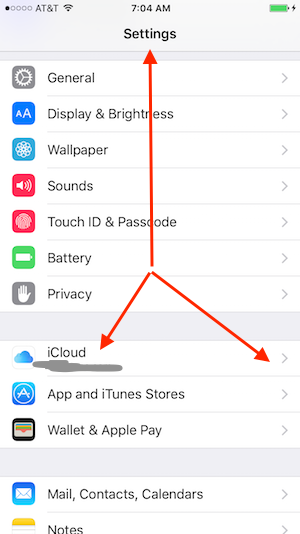 Step 2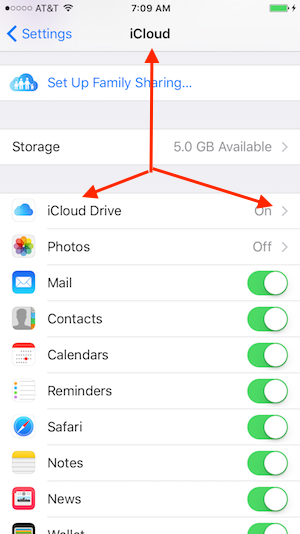 Turn iCloud Drive ON. It must be ON for any App to sync any data.
On the same screen, scroll further down and find iPhemeris in the list of Apps using iCloud Drive, and turn the switch next to it ON (make it green) as well.
On the same screen, scroll all the way down to the bottom to Use Cellular Data. This setting is up to you, but if it is not ON, your charts (and any other data stored in iCloud) will not sync unless you are connected to wifi.
Step 3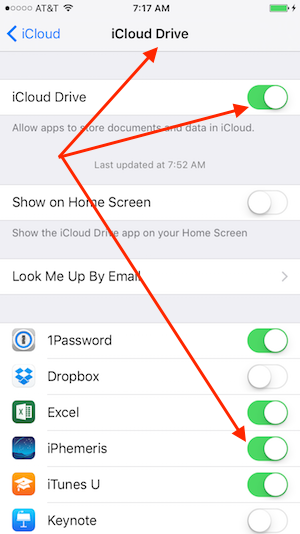 Next, leave settings and Restart iPhemeris and your charts should start streaming in.
To restart iPhemeris:
Double press the home button (round thingy at the bottom of your device).
Scroll through the list of running Apps and find iPhemeris.
Flick or slide it up. This shuts it down fully.
Tap the home button once to get back to the desktop.
Start iPhemeris.
After that you should be good to go!
What To Do About Older Devices
Older devices that cannot migrate to iOS 9 are going to be in a pickle, and this is true of any data that you might have in iCloud, not just iPhemeris data. Apple is requiring the upgrade to move forward with iCloud.
Once your iCloud data is migrated to the newer formats it cannot sync with iCloud on older versions of iOS, as far as we understand. Now here again, let me re-iterate, if a device can upgrade to iOS 8 it can upgrade to iOS 9 and you should do that. If you really are on an older device that can't then your only option is to turn iCloud off.
To do that follow these instructions:
On devices that cannot migrate to 9, go to into iPhemeris Settings and turn iCloud OFF. This will copy the chart data out of iCloud and into local storage on the device.
You can sync data between devices not using iCloud via the manual approach described in the documentation located here: Manual iCloud Backup.
Unfortunately, there is not really much else we can do. We do not have control over Apple internal policy or data structures and if we use iCloud we are all forced to live by their rules.
Hope that helps, shine on!
iPhemeris